What is your biggest struggle as an aspiring blogger?
Well, I'll tell you mine.
When I first wanted to start my own blog, I did not find many great free hosting & domain options.
I chose Blogger, but anyone who has tried Blogger knows that it has limitations. Plus, no cPanel, which means no WordPress.
Of course, you do get a free domain (which contains blogspot in its name) and free hosting. But, unfortunately, that's not enough.
I started two blogs and shut down both of them in a period of six months. I did get some traffic, but that's that.
After that, I did what you might be doing right now – RESEARCH.
I learned about WordPress and how it was the best content management system (CMS) out there for people like me with no tech background.
The only problem I had was the hosting prices.
You have to purchase a domain, and then you have to purchase hosting from a good hosting provider to create your blog and keep it up and running.
However, you might want to learn WordPress (just like me) before you decide to invest in hosting.
Only if there is a way to practice WordPress and publish your blog without spending a single rupee, right?
Don't worry. I got you there.
After trying several free WordPress hosting providers, I have come to know about InfinityFree webhosting.
In this review, I will explain the benefits of opting for an InfinityFree client account and whether it is the best free WordPress hosting provider for you.
What is InfinityFree?
InfinityFree is a free hosting service. It lets you host your website and offers features like cPanel and one-click WordPress installation.

The best thing about InfinityFree is that it's completely free for a lifetime.
It also provides unlimited bandwidth and unlimited disk storage, which is more than enough for you to start.
Why Should You Go For InfinityFree?
There are multiple reasons to choose InfinityFree from a wide range of free hosting services across the internet.
It has many features such as 99.9% uptime, no forced ads, and the ability to host any domain name.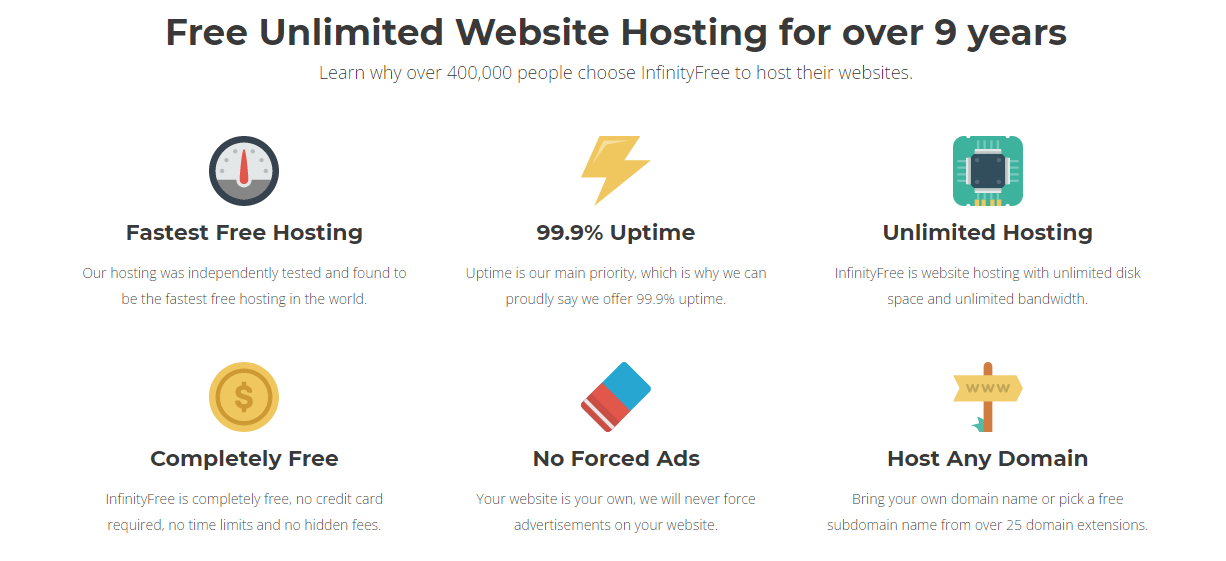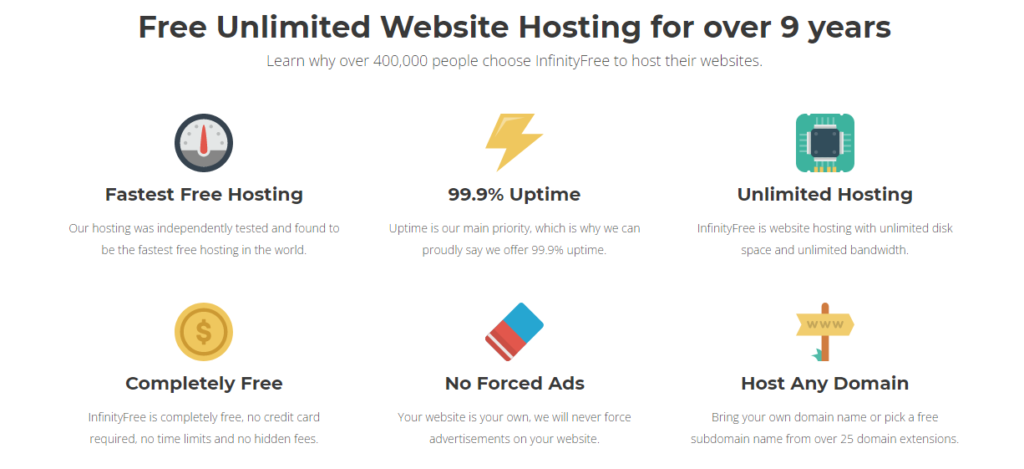 However, let's take a look at the features that I personally find best about our free unlimited web hosting provider.
Multiple Hosting Accounts
You can create three different hosting accounts with Infinityfree, which means better management.
It means you can host different types of websites with different accounts to avoid any confusion or inconvenience in the future.


Easy Account Setup
If you have tried other free hosting providers, you may know that they take a while to activate your account. Sometimes, they even reject your account creation request.
Good thing it's not the case with InfinityFree.
After you sign up, it takes a few minutes to fill in the required information, and your hosting account is active.
You can instantly add a domain and start creating your blog.
Free Subdomain names
If you only want to learn WordPress without investing a single rupee, you can opt for a free subdomain name.
I love this feature because it saves you the cost of purchasing a domain.
However, I strongly recommend against using the free subdomain name if you are creating a blog or website for more than just learning purposes. That's because a subdomain name from Infinityfree looks something like this: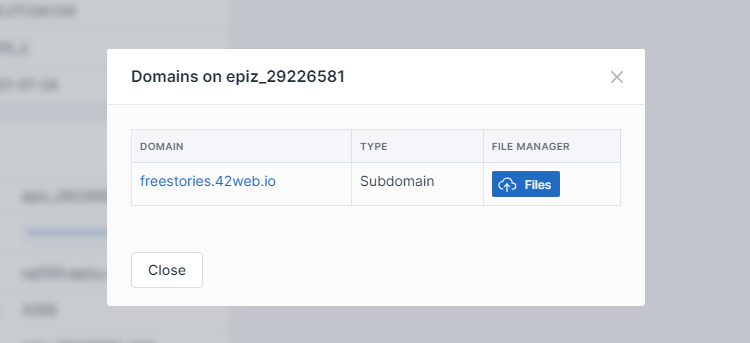 One-Click WordPress
It's finally time to address the elephant in the room. Many platforms like Blogger, Wix, and Squarespace let you create a website. However, they have their own website-builder tools.
If you want to install and learn WordPress on your website, there aren't many free options available. The ones that are available aren't that great either.
I have searched for months to find an excellent free hosting service that allows me to build on WordPress.
And, my search finally stopped on InfinityFree. I haven't used any other free WordPress hosting service since then.
Free SSL Certificates
Another advantage of using InfinityFree is that you get free SSL certificates for each account.
This is really helpful if you have purchased a domain and building a blog or portfolio website.
SSL certificates have multiple advantages, especially when it comes to SEO.
How InfinityFree Fares Against Paid Hosting Services
I will be completely honest here.
InfinityFree is really great for beginners. If you are starting out as a blogger, want to learn about different tools like WordPress, or building a portfolio website, you do not have to go to any paid hosting service providers.
However, if you want your site to load super fast or manage thousands of visitors on a monthly or weekly basis, InfinityFree is not the right choice for you.
My only issue has been the site loading speed. It takes a while to load, which is harmful to SEO practices.
But it's free hosting, so you have to compromise somewhere.
Still, in my opinion, it is one of the best, if not the best, free WordPress hosting services to start.
I have learned WordPress on InfinityFree, and I highly recommend it to anyone who's just starting out.
How Can You Use InfinityFree to Learn WordPress and SEO
There are two major components of blogging.
A blog
SEO
With InfinityFree, you can practice both.
You can use WordPress to set up your blog and implement different SEO practices in it.
Let's take a look at how.
Sign Up
It is easy to sign up on InfinityFree.
You only need a working email address to register.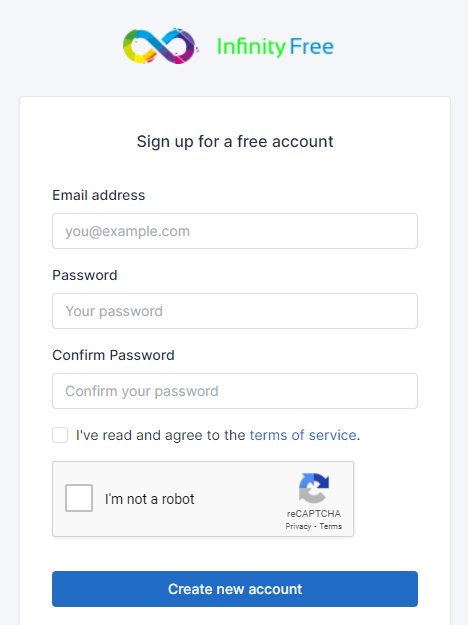 Your first hosting account is created automatically during the sign-up process.
A hosting account has a username like this.

You can create two more hosting accounts by clicking on the 'Create Account' button in your Accounts dashboard.
WordPress Installation
You can click on 'Manage' on any of your accounts, and it will take you to this screen.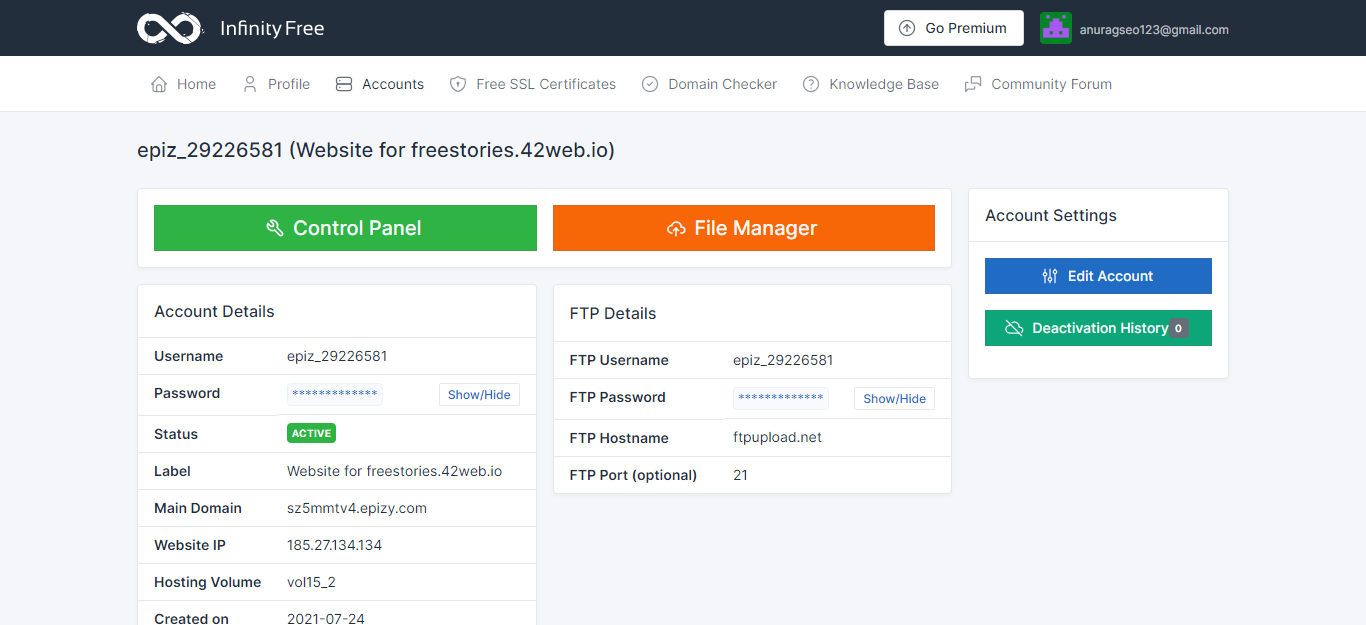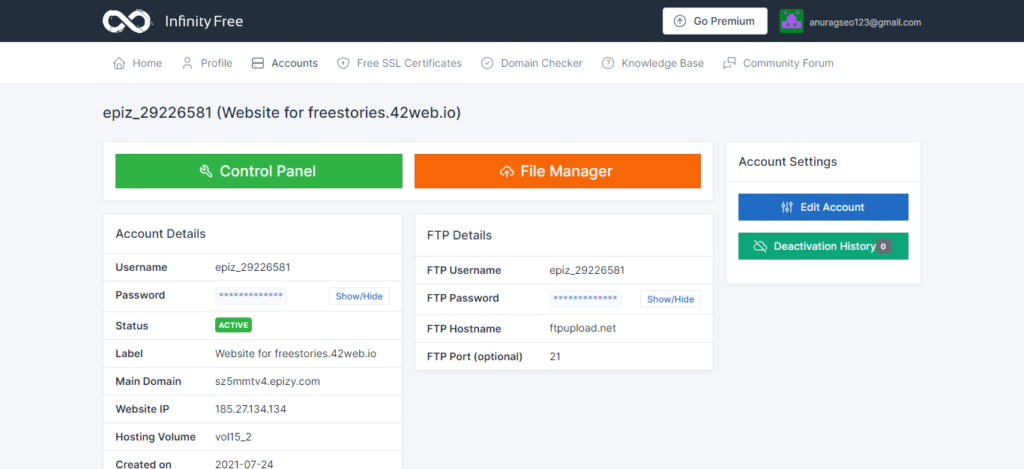 You just need to click on the Control Panel to access your cPanel.
In the cPanel, go to SOFTWARE and click on the Softaculous Apps Installer.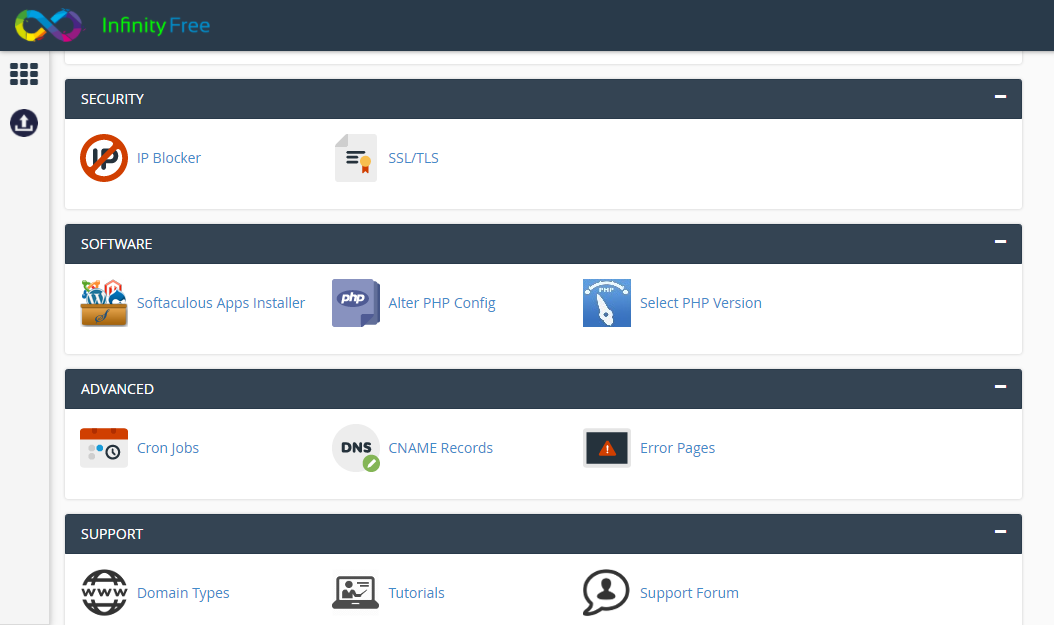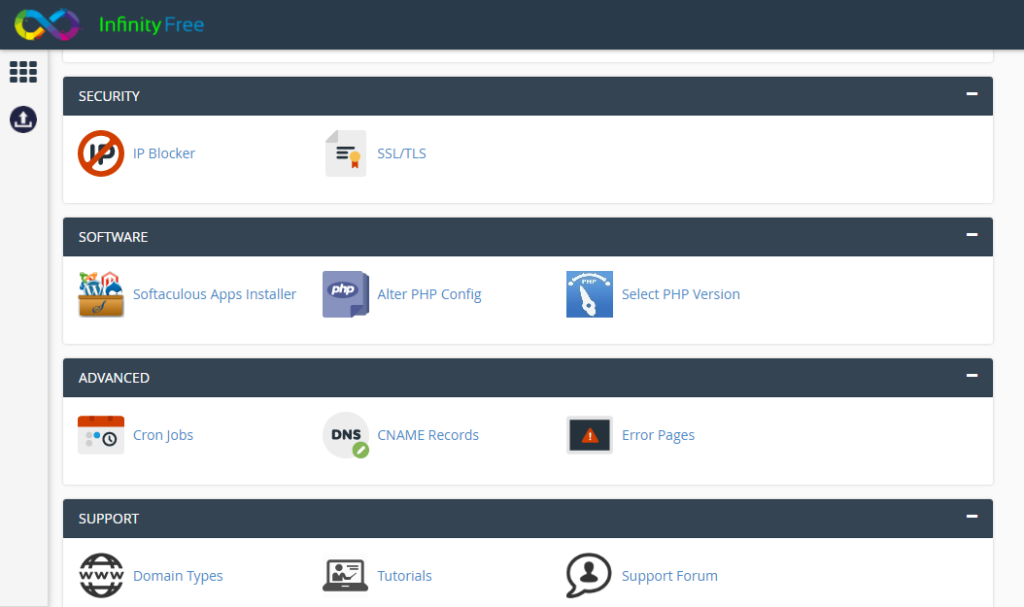 It will take you to this screen, and you can install WordPress with a single click here.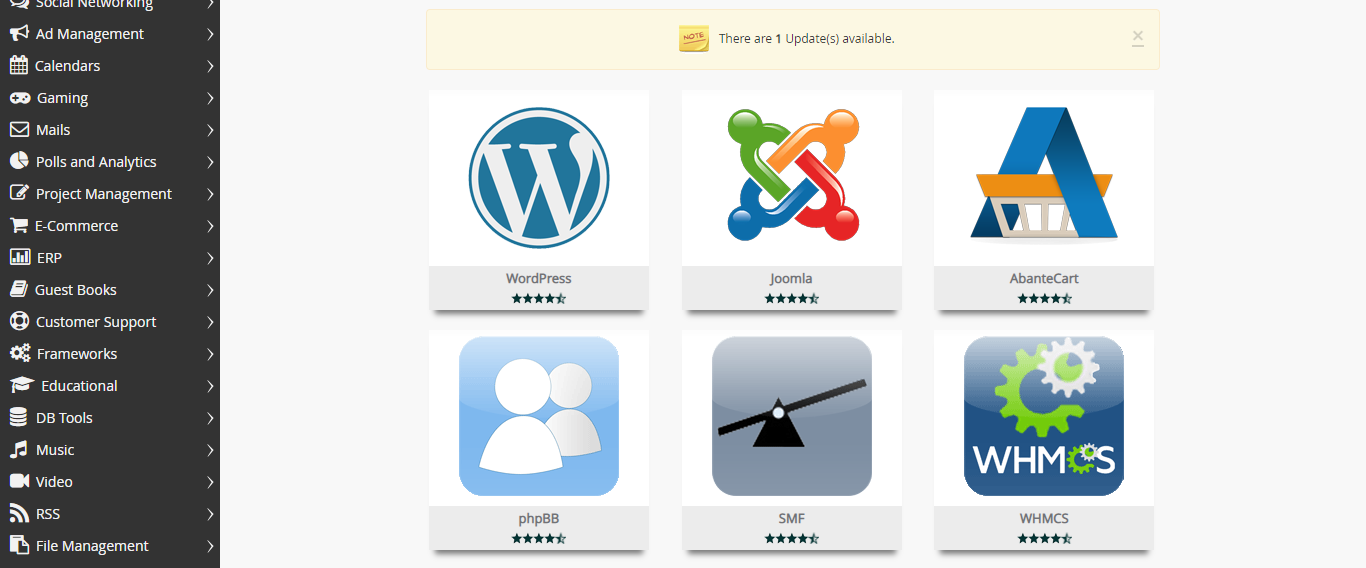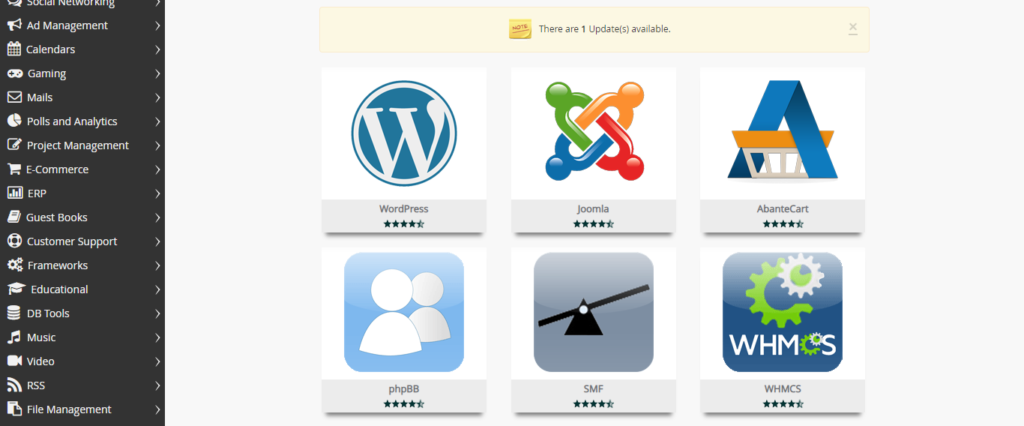 Installing a Free SSL Certificate
Installing an SSL certificate is simple and straightforward with InfinityFree.
Go to the 'Free SSL Certificates' dashboard from the top.


Click on the New SSL Certificate, and it will navigate you to a different screen.
It will first ask you to submit the domain that you are hosting with your InfinityFree account.
Once you submit your domain, it will ask you to choose from a list of three different SSL certificate providers.
The image shows four SSL providers, but InfinityFree has withdrawn its support of Let's Encrypt.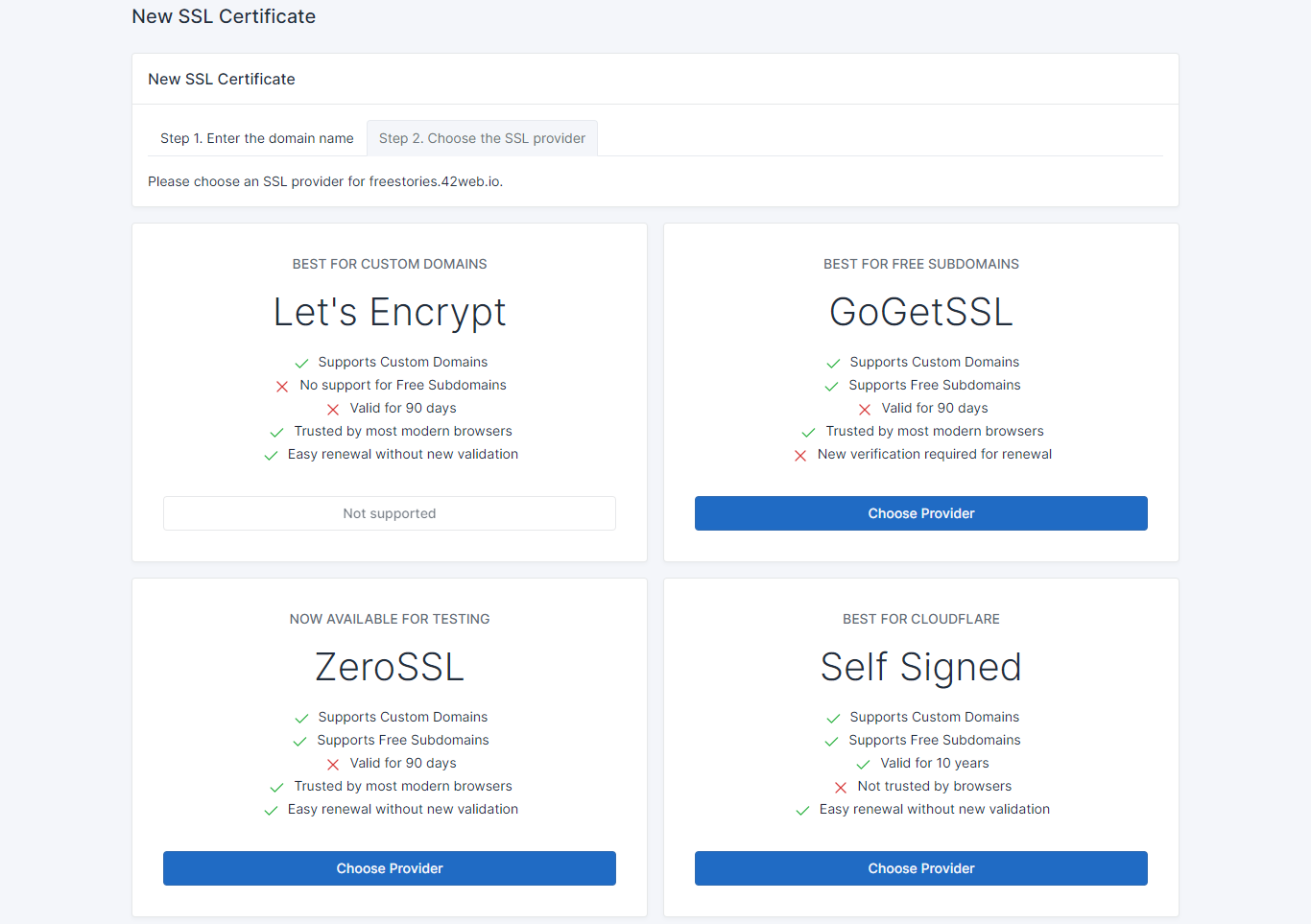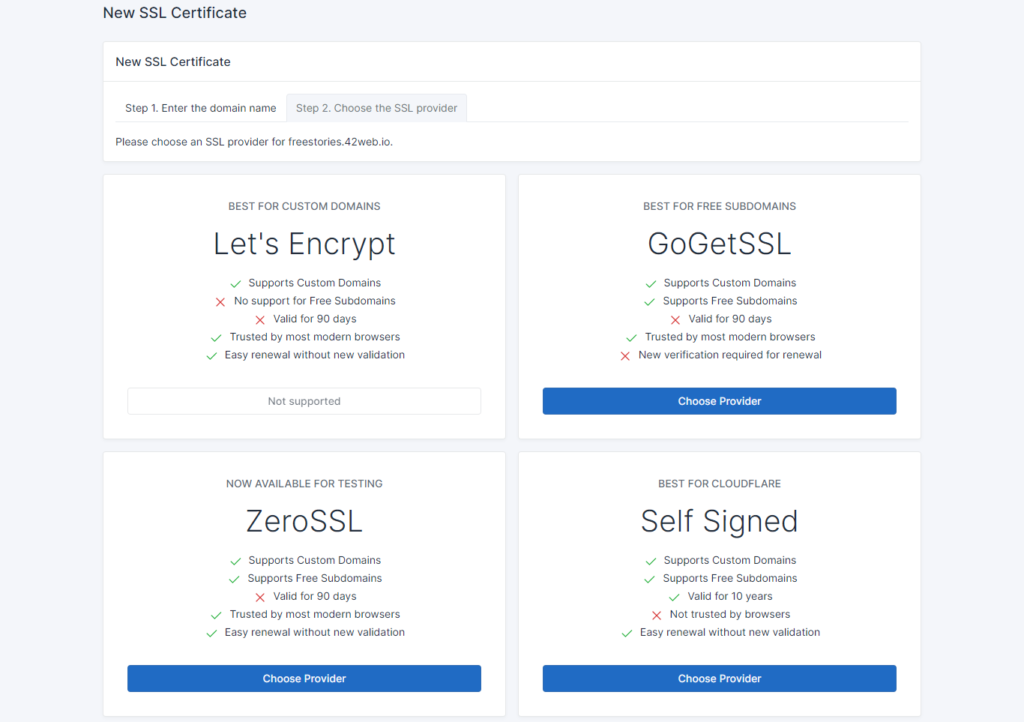 After this step, you will receive a CNAME record. You need to add this to your domain name for domain verification.
DNS changes can take up to 48 hours to take effect, so be patient with this step.
Once the DNS changes take place, you need to verify your domain name on the dashboard once again.
After verification, you can install the SSL with a single click.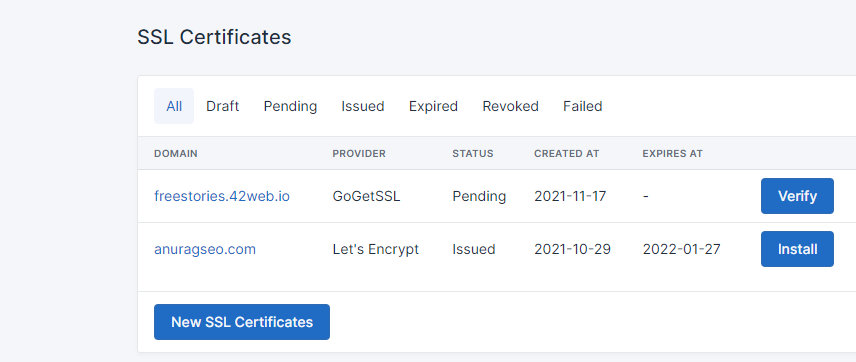 Implementing SEO
InfinityFree does not help you learn SEO directly.
But, it does help you set up a WordPress website for free, and you can practice SEO on that website.
In WordPress, you can install plugins like Yoast and Rank Math. These plugins can help you expand your SEO knowledge and teach you how to craft SEO-optimized content. You will also get the basic idea of on-page SEO.
Web Designing
Yes, you read it right.
You can learn web designing for free if you set up an InfinityFree WordPress website and design pages in it.
You can create a WordPress website on a free subdomain and start practicing.
You can use plugins like Elementor (free version) and watch online tutorials.
I have designed web pages on my InfinityFree website like this. This is a really great skill to have, especially when you want to pursue a career in the online market.
And, finally, here comes the Big Question.
Should You Get InfinityFree?
If I had known about InfinityFree five years ago, I would go for it in a heartbeat. I started my career as a freelance content writer back then, and having a blog would add to my portfolio.
An InfinityFree account is beneficial for you if you want to:
Learn website development using WordPress CMS
Learn web designing for free
Learn SEO
Start your blog without spending anything
Learn the basics to pursue a career in digital marketing, SEO, web development, etc.
I am sure that now you have a clear understanding of what InfinityFree is and how it works.
If you want to create an account and start your blogging journey with them, you can visit their official website.
Click here to visit the InfinityFree website
My Final Verdict
InfinityFree is amazing, and it helped me learn web development and designing on WordPress.
It lets you practice the craft to get better without costing any money. You only need to invest your time and efforts.
Paid WordPress hosting services can easily charge you $50 for a year. And a domain costs around $5-$8.
InfinityFree saves you that cost. Except for the slow loading time, I could not find any other issue.
However, there are ways you can increase your site speed and tackle that issue as well.
Hence, in my opinion, InfinityFree is the best free WordPress hosting provider on the internet right now. I have reached this conclusion after trying a few others like 000WebHost and GoogieHost. They are good, but I find InfinityFree better due to the reasons I have mentioned above.
Have you tried any free hosting service and believe that was the best free WordPress hosting service?
Do let me know.
Also, if you want to create an InfinityFree account, you can do so by clicking the button below.