"Hi, Anurag. We liked your sample but decided to go with another writer this time. Best of luck with your future endeavors."
This is the response many of us get when we start working as content writers without any prior experience.
Generally, you start with job boards, such as Upwork or Freelancer. Then, you begin to submit proposals constantly and be able to land a few trials. After that, you put all your efforts into those trial pieces and waited excitedly only to receive disappointment in the end.
It was the same for me, UNTIL…
I asked the client this.
"Thanks for taking out your time to inform me. Can I ask why I got rejected?"
"We decided to go with the other writer because we liked her portfolio better. On the plus side, she understands content marketing and will help us with driving traffic to our blog."
This was the moment I realized that people do not just need content writers. They need content writers who are also content marketers.
You can look at the job postings on these platforms, and you will see they need writers with additional skills, like SEO, content marketing, and content planning.
That's when I decided that that was it.
I did not need more rejections.
What I needed was to learn content marketing, and I did.
Now, I am writing this guide to help you guys understand it.
This guide will teach you all the basics of content marketing and help you build the confidence you need with clients.
It also teaches various techniques that can help you drive more traffic to your blog, which you can later use as a portfolio or a content asset.
So, let's start without further delay.
What is Content Marketing?
The term content marketing has grown rapidly in the last decade. It costs 62% less than traditional marketing but generates (approximately) three times as many leads.
So, what is the meaning of content marketing?
Content marketing means creating and promoting relevant and valuable online content assets to attract and retain a refined audience. These content assets could be blogs, videos, and social media posts.
Many brands and content marketers focus on the creation part only and do not put enough effort into content promotion.
In this guide, we will focus on both aspects of content marketing.
We will start with how to find unique content opportunities and create content. And later, we will learn different content promotion strategies.
Benefits of Content Marketing
Content marketing is beneficial for a brand in the following manner:
Helps you create a topical authority and establish yourself or your brand as the go-to source for a solution to users' problems
Helps build relationships with your target audience, which leads to an increase in customer loyalty
You can educate your leads and customers about your products and their use cases
Content marketing boosts conversions, hence increase in sales
As mentioned earlier, it costs less and drives more traffic as compared to traditional marketing
It amplifies your brand awareness
And, Google loves content
How do I get started in Content Marketing?
This guide will teach you a six-step framework to get started in content marketing.
This is my approach that is somewhat similar to what I have learned from the Content Marketing Mastery course of Sanjay Shenoy, a renowned copywriter and content marketer from India.
The first step can be overlooked if the site is brand new and there is no existing content.
Rest steps must be followed in consecutive order.
Content Audit: Finding the Content that will Work for You
Content marketing has two parts.
The first is content creation.
And, the second is content promotion.
But, what type of content should you create?
To find out the answer to this question, you must run a content audit on your existing content assets.
What is Content Audit?
A content audit can be defined as the systematic and complete analysis of all your digital content assets.
A content audit is essential for an effective content marketing strategy.
Why is a content audit useful?
A content audit serves multiple purposes at once.
It helps you filter out content that does not perform and helps focus on content that can help you achieve your content marketing goals.
You can also find content opportunities that can be repurposed on various platforms.
How to do content audit
You can do a content audit in three steps.
This is the most basic approach. And, there are also more advanced methods to do a content audit.
However, these three steps are enough to properly audit content assets on any website and create content marketing strategies around it.
1. Creating a content inventory
The first step is to create a content inventory of all your existing content assets.
You can use a Spreadsheet or any online content audit tool to gather and store all the assets. I personally prefer Google Spreadsheet.
Note: For larger websites, it is recommended to use a content audit tool.
After that, you must note down all the required information and metrics related to your assets, as given in the below example.


You must focus on the following details and metrics:
URL
Title
Topic
Keywords you are targeting
Word count
Format
Medium
Target Audience
Content's position in the funnel
CTA
Bounce rate of the page
Dwell time
Total # of conversions
Total # of social shares
2. Analyze & categorize the content assets
In the next step, you must categorize all your content assets.
You have three clear while auditing your content assets.
Finding content that is working well and creating more content around the same topic
Finding content that requires some update and edits to perform better
Finding content that is not relevant and not performing and removing it from your site
Your content inventory gives you a clear look into the various factors required to categorize them.
Just analyze your assets and categorize them in the three above-mentioned categories.
3. Creating a content action plan
The last step is to create a feasible content marketing action plan after collecting and categorizing all the required data.
The action plan must be in line with your business goals.
For instance, you may be getting a lot of traffic at the top of the funnel. But, your conversion rate is very low.
In this case, you must focus on the content creation for the bottom of the funnel.
Now, you have done the audit and found the content that is working really well in different buyer's stages.
It is time to focus on creating similar content on a large scale.
But how can you do that?
Let's find out.
Topic Research: How to Find the Winning Topics
If you are starting from scratch, then this is the first step for you.
Topic research means finding out relevant topics to your niche or business that have the potential to attract visitors.
Generally, these topics could be user queries that they are searching on Google or other search engines.
The idea is to provide a solution to your target audience's problems.
Why topic research is essential
There are around 63,000 search queries on Google every second, which translates to a whopping 5.6 billion Google searches in a day.
However, we will focus on the topics around which those queries are targeted in this section.
The search queries are also referred to as keywords which we will read in the next section.
Topic research is essential because it helps you figure out what your target audience and potential customers are searching for.
Once you understand their problems, you can provide a solution to them.
Now, a user may have multiple queries around a single topic.
Topic research allows you to create various content assets to solve all those queries.
You can interlink all the different posts on a single topic to allow the reader to move from one post to another easily.
It is also beneficial for SEO as it makes your site easy to crawl by search engine bots.
How to do topic research
You can take two different approaches to do topic research.
The first approach is for those who have audited their content assets and already found some winning topics.
The second approach is for those who do not have any existing content and are starting from scratch.
Let's take a look at both of them.
1. Topic Research after finding winning topics
A content audit does half of your topic research work. Now you have some idea about the topics that are already ranking well on your website.
You have to find similar topics with different queries now.
To do this, go to Google.
Enter your topic but add a '+' operator. You can use it either in the beginning or end to get various ideas.
(I have learned this method of topic research from SK Rafiqul Islam, a leading content marketing strategist in India.)
For instance, I was searching for topics related to content marketing.
I have come across the following other topics that are relevant to the term content marketing.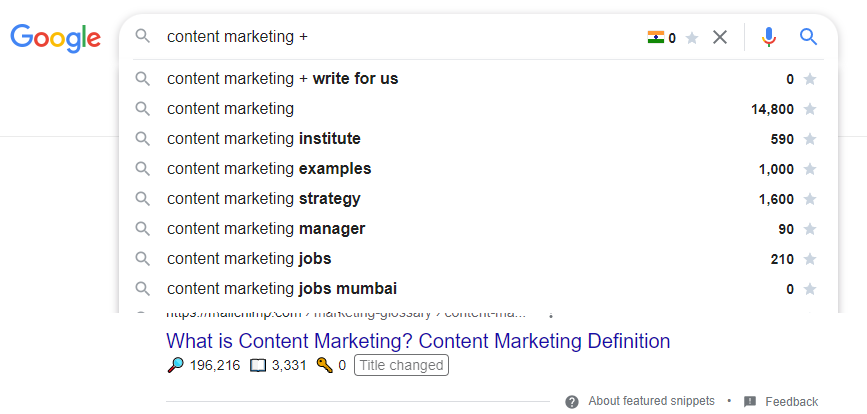 You can also use the '+' operator at the beginning or both sides for more topic suggestions.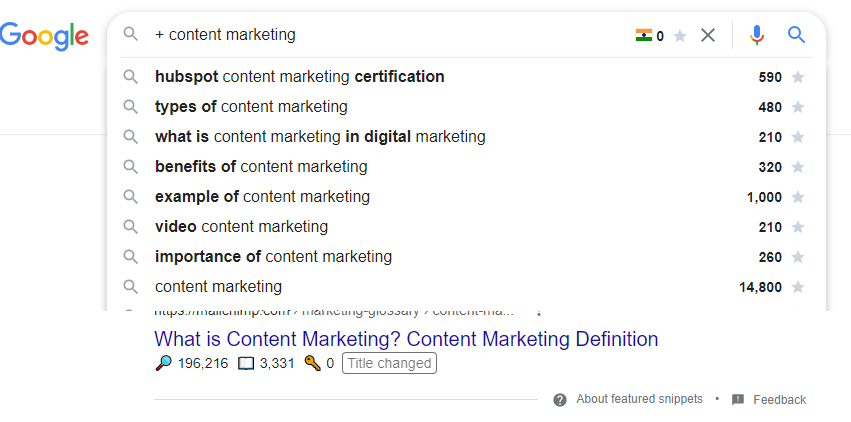 You can list down all the topics that you think can be valuable to your audience.
2. Topic Research when you are starting from the scratch
It is a little easier to come up with topic ideas when you are working with already existing content assets.
However, it gets tricky when you are starting your own blog and have no idea where to start.
Don't worry.
We've all been there.
If you are working with a business, you can try to figure out their niche.
You can also study their competitors to figure out the niche.
If you are creating your blog, you need to decide on a niche for yourself.
I will give you a quick way to identify your niche.
Write down at least five different things that you think you are good at. For example, it could be your proficiency in a language or other skills such as SEO.
Make a list of five people who think are closest to you.
Ask them what they think you are best at from those five things.
Go with the one that got the highest vote.
It is a simple yet effective formula for finding your niche.
Sometimes, people around us know us better than ourselves at the things we do.
After picking your niche, you need to narrow it down a little.
For instance, suppose my niche is content marketing. But, content marketing is a very congested niche, with thousands of agencies and freelancers already targeting it.
Therefore, I would go a little deeper into it, such as content marketing for SMEs. Or even more narrow, such as content marketing for local real estate businesses.
Once the niche is finalized, you can focus on finding topics around it.
I have a hack for you.
The best way to find great topics is to look at your competitors.
If something is working for someone on Google, it means it will also work for you. Google works this way.
For instance, suppose my niche is content marketing. In this case, I will search for content marketing on Google and make a list of the top 10 blogs.
I will only pick the 3 out of those 10 which I think have the best content around my niche.
In this scenario, I have decided to go with these three:
All these blogs have good content around my chosen topic.
I will create a list of the topic that I will find relatable to my niche and valuable to my audience.
You can take the same approach.
Or, you can try to search for relevant topics on various forums or Quora.
People usually post their queries on these places, especially the ones that are not available on Google or the solution is not satisfactory.
Another great method to find a potential topic is to use Google Trends.
You can type in your niche or a relevant keyword in Google Trends. And, it will show you which queries are getting more popular lately.
To start with, you just need five good topics.
Once you are done with finalizing your topics, you have to do keyword research to make sure that the search engines will notice your content.
Keyword Research: Dominate Google Search Results
Keyword research is one of the most important parts of a content marketing strategy.
You win half the battle if you do this right.
But, what exactly is the meaning of keyword research?
And, how to do it right?
What is keyword research?
To understand keyword research, you must first understand the meaning of a keyword.
A keyword is a search query that a user inserted into a search engine to find relevant information.
In the image below, "best content marketing courses" is the keyword.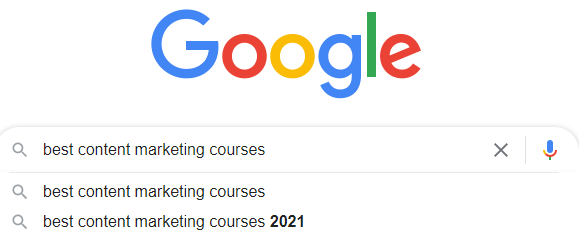 Despite being called a keyword, a keyword is not always a single word. In fact, mostly, it is a phrase.
Keyword research is the process of finding relevant and potential keywords that could help you drive traffic to your blog.
There are three categories of keywords, namely:
Short-tail or broad
Mid-tail
Long-tail
| | | |
| --- | --- | --- |
| Short-tail | Mid-tail | Long-tail |
| High volume | Medium volume | Low volume |
| High difficulty | Moderate difficulty | Low difficulty |
| Search intent is not clear | Search intent is a little clear | High Intent-Based |
| e.g., content marketing | e.g., content marketing course | e.g., best content marketing course in gurgaon |
High volume indicates that a large number of people are searching for that particular query in a month.
It is a natural instinct to go for keywords that have high volume.
For instance, "content marketing" has over a 14,000 monthly search volume. So it seems lucrative at first glance.
The issue is that such keywords also have high difficulty. You will be competing against big brands.
In this scenario going for a low volume but low difficulty keyword is ideal.
What sounds better?
Targeting a keyword with 2000 monthly search volume that will bring you at least 700 monthly visitors
Targeting a keyword with 10,000 monthly search volume that will bring you just 50-100 monthly visitors
Suggested – The Ultimate Keyword Research Guide for Beginners
With the above example in mind, let's learn how to find low-difficulty long-tail keywords that are easy to rank and drive traffic.
How to do keyword research
You must understand that Google ranks a page for multiple keywords and not just one.
Hence, instead of going for a single keyword, we will target a few variations of it.
This way, you will solve multiple queries relevant to a single topic.
It will also help you retain a visitor as they do not need to search anywhere else for other related problems. Your single article will be sufficient for them.
The Process
You must choose one long-tail focus keyword that will be your primary keyword.
And, you will find some secondary keywords that are somewhat related to it.
There are many keyword research tools in the market that can help you with your keyword research.
I personally prefer Ahrefs free keyword generator tool.


You can also use Google Keyword Planner, but you need to have a Google Ads account to use it. Also, the data is not accurate unless you spend on ads, but it is a good free tool.
We will only focus on the Ahrefs keyword research tool in this section. Once you understand the method, you can use any tool.
Open the Ahrefs keyword generator in a new tab.
First, enter your topic so that you can find a good long-tail primary keyword around it.
It will give you multiple suggestions, as shown in the image below.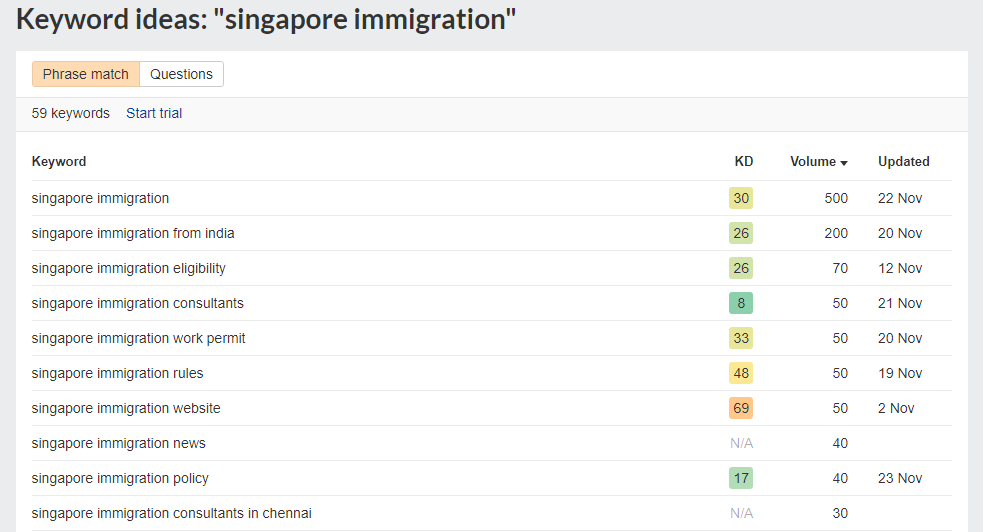 You can scroll through the content and find a good long-tail keyword for you.
In the above image, a good primary keyword can be "singapore immigration from india".
This keyword has a clear intent that the user wants to learn about immigration to Singapore from India.
Another good primary keyword from the above list can be "singapore immigration consultants in Chennai".
If you put some time, you will easily find multiple great opportunities that are relevant to your niche.
In the next step, you must find some secondary keywords.
To find secondary keywords, you can type your primary keyword in the Ahrefs tool and note down the queries that are relevant to your topic and the content you will create.
If the primary keyword does not have good secondary keywords, you can go broad and search for similar long-tail keywords within your topic.
For instance, when you use the keyword "singapore immigration from india", you are more like to talk about "singapore immigration consultants" and "singapore immigration policy".
Once you have the required secondary keywords, you can use Google's People Also Ask to find some questions around your topics that people are searching for.

Select the ones that are relevant to your topic.
Once you have the required data, it will look something like this.


You can choose as many secondary keywords and People Also Ask questions as you want. However, I prefer five secondary keywords and 5 PAA questions.
Now, you have completed your keyword research and are ready to create content around it.
So, let's move to our next section.
Content Creation: Create Amazing Content with Ease
Content creation is the process of creating valuable and relevant content that satisfies a user's query by providing a complete or unique solution to the user's problem.
One of the hardest parts of content creation is to get good content creation ideas.
But, you have done the keyword research, and now you have a basic idea of what your content is going to be about.
Your primary keyword will be your topic. And, you can use People Also Ask queries as your subheadings.
In this section, I am going to show you a simple framework that you can apply to create great content with minimal effort.
How to create content
There are no hard and fast rules to create content.
You can take any approach you want, but you need to ensure that your page's user experience is excellent.
In layman's terms, you must format your article properly. Use big fonts and small paragraphs.
People do not read on the internet. They rather scan.
Make sure your content is scannable.
Next, create an outline.
After you have the outline, your first task is to finalize a good headline for your article.
Remember that headline is the most important part of your article. It must be clickable to attract as many visitors as possible to your website.
What I suggest is that you try to come up with at least 20 unique headlines.
Analyze them to find the top three.
You can choose an online headline analyzer. I use two different analyzers and take their average score into consideration.

Suggested: How to write a winning headline that increases your CTR
After you finalize the headline, the next important part of your article is the intro.
It must grab the user's attention, so they do not bounce back from your page.
What I use is something called the H-T-T formula that I have learned from Sanjay.
H-T-T stands for Hook, Transition, and Thesis.
A hook can be something that grabs a user's attention instantly.
You can use a shocking statistic, ask a thought-provoking question, or use a story.
Well, everyone loves stories, and a story keeps the reader hooked for a long time. They want to know what happens next.
The transition stands for the sentence or phrase that you use to conclude your intro so you can start talking about your primary topic.
A thesis is a topic about which you are going to write.
Like I said earlier, there is no perfect formula to write an article.
However, there are a few things that you must keep in mind.
Your article must solve a user's query completely.
Hence, try to answer as many questions as possible around your primary keyword.
Ideally, an article must answer the following questions around a topic:
If your content asset can answer at least 4 queries out of the 6 mentioned above, you have done a decent job.
When you finish your article, add a conclusion paragraph.
Provide a brief summary of what you have talked about in the article and place a CTA (call-to-action) in the end.
Content Repurposing: Sometimes Less is More if You Repurpose it Correctly
Congratulations on creating your first post.
Now, hit the publish button and make it live on the internet.
Many businesses and content marketers stop at this point.
They put a lot of effort into creating a piece of content. Then, publish it and wait for the traffic to come.
After a few months, they realize that this approach will not bring the desired results. And, they start to believe that content marketing does not work.
That is not the case.
There are two more steps after creating and publishing your content to make your content marketing strategy successful.
They are à
Content repurposing, and
Content distribution
Let's discuss content repurposing first.
What is content repurposing?
Content repurposing means using your existing content to create more content assets. You can transform your assets into different formats that can be adapted to different mediums.
For instance, you can repurpose a how-to guide into a YouTube video or a blog into an infographic.
Why is content repurposing useful?
Content repurposing enables you to publish more content with less effort and attract traffic from different channels.
With content repurposing, you can use your single content asset on different platforms by repurposing it into the appropriate format.
How to do content repurposing
It is possible to repurpose any piece of content into a new format. However, it is recommended to follow certain rules before and while repurposing content.
It is not ideal to repurpose all the content on your website as not all content assets have the same age.
For instance, a blog post about Google's Penguin update in 2012 is completely useless for repurposing today.
On the other hand, a guide on search engine optimization can be updated and repurposed accordingly for years to come.
Let's learn how you can make the most of your existing content.
1. Audit your content for repurposing
If you already have many content assets, it is highly recommended to do a content audit for content repurposing.
Suggested: How to do a content audit for repurposing content
You must be looking for evergreen content.
Generally, pillar content or cornerstone content is perfect for repurposing.
There are multiple ways to repurpose it.
2. Repurpose your pillar content into an eBook
You can repurpose a pillar page into an eBook and use it as a lead magnet.
Sometimes, people do not have enough time to read long posts. Therefore, they highly appreciate an eBook to learn the topic in their leisure time.
You can also collect their name and emails, which will allow you to run email marketing campaigns later.
3. Repurpose your blog post into a video
You can transform a blog post or a sub-topic of your pillar content into a video.
If you are going to publish the video on YouTube, you need to implement some changes to it.
Just work on the tone and make it more conversational.
This will help you acquire more real estate on the internet, and you may also get good traffic from YouTube.
4. Repurpose your written content into visual assets
An article has multiple segments or subtopics.
You can repurpose your entire article or a particular segment into an infographic.
An infographic can be a linkable asset that can help you get natural backlinks.
You can also reach out to bloggers and share it with them in exchange for a link.
Remember that only reach out to blogs and websites that are relevant to the infographic you have created.
5. Repurpose pillar content into an online video course
You can also repurpose pillar content into a course.
Pillar content usually covers all the aspects of a single topic.
You can repurpose your pillar page into a video course after making some changes.
You can launch this course on YouTube or on Udemy to get more traffic from different sources.
6. Republishing on web2.0
Web 2.0 is a term used for platforms like Blogger and Medium.
These platforms allow you to create a blog or website on their subdomains and publish content on them.
You can republish a blog post on Medium and link it back to your original post.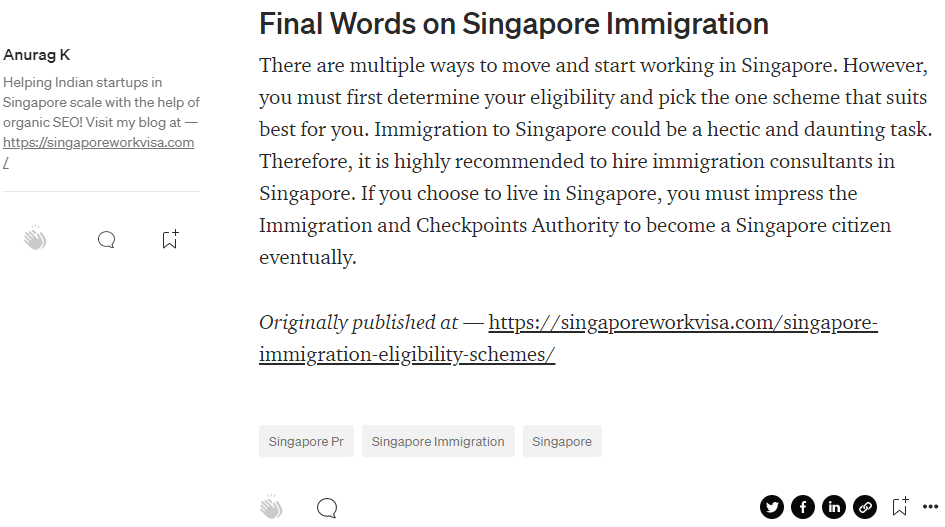 Web 2.0 websites have a high authority which allows you to rank faster on search engines.
Content republishing helps you get more eyeballs to your content and establish a topical authority.
Content Distribution: Drive Traffic from Major Platforms
With content repurposing, we have already learned to drive more traffic to our content assets by publishing them on different platforms like Medium and YouTube.
However, there are other major social media platforms that you should not overlook.
Let's understand content distribution now.
What is content distribution?
Content distribution means promoting content on different platforms.
Usually, the goal is to drive users to your blog or landing page.
How to distribute content on different platforms
In this section, we will focus on driving traffic from two social media platforms.
Facebook
LinkedIn
You can reuse these strategies on other platforms as well to target more users.
1. Content distribution on Facebook
Facebook is the largest social media platform right now, with around 2.8 billion monthly users.
It is hard to overlook Facebook when you think about content marketing.
Facebook offers a number of great tools to help you promote your content to the right audience.
These tools are –
Facebook profile
Facebook fan page
Facebook groups
You need to set up a well-optimized Facebook profile that highlights all your relevant skills and experience.
After that, you must create a Facebook fan page for yourself or your business.
You must try to add as many people as possible to your fan page.
People can leave a review on a fan page, and you can also share content on it.
The next and most important step is to join relevant Facebook groups.
Facebook groups are a great way to build relationships.
You can interact with people in the same niche as yours.
The most effective way to use Facebook groups is to post regularly there.
Remember to post relevant and informative content. Do not post anything promotional until people start to recognize you.
Once you post 3-4 informational posts, you can post something that may link to your blog post or YouTube video.
You must also comment on other people's posts to build better relations and show your knowledge.
Many freelancers generate regular leads from Facebook groups.
2. Content distribution on LinkedIn
LinkedIn is a social media platform for professionals.
It is the best place to get new job offers and opportunities.
You must create a well-optimized profile here similar to Facebook.
LinkedIn is a social media platform where the world's leading founders and CEOs hang out regularly.
Therefore, you must post highly opinionated content and show your expertise in the subject matter.
Occasionally, you can post a visual with a link to your website.
Thing to remember
Organic lead generation is a slow process.
You may have to wait for months to see some results because you must first set up a presence on different platforms.
The traffic may be low, but it is refined, and the leads you get are more likely to convert into new clients or customers.
You can reapply similar methods on other platforms like Instagram or Twitter.
Every platform has its format and rules. So, remember to follow them.
FAQs
1. Is content marketing easy?
Content marketing is not easy. You need to put effort and time to see results. It requires consistency and dedication. You must also master various skills, such as keyword research and content writing. It is totally doable, but you must learn these skills and sharpen them before start taking projects.
2. Is content marketing a good career?
Content marketing is a great career choice today. All the leading brands rely on content marketing today. And, the best thing is that around 62% of companies outsource their content marketing. It implies that there are lots of good opportunities out there for content marketers.
3. What is the difference between SEO & content marketing?
SEO is focused on optimizing your entire website and content to drive more traffic. SEO also requires you to focus on the technical aspects of your website that affect rankings. On the other hand, content marketing stands for creating and using valuable and persuasive content to drive potential customers to your website or make them take action. You may create content in content marketing that has no value from an SEO perspective but high value from a business perspective.
4. What skills do you need to be a content marketer?
You must be good with research. You do not need to be creative to be a content marketer, but you must know how to curate the content that's already outside there. You must develop good keyword research skills and practice to become a better writer. If you repurpose content, you must become familiar with tools like Canva and video editing software.
5. How do I get experience in content marketing?
The best way to get experience in content marketing is to create your blog and start applying what you learn to it. If you can bring visitors to your blog, you can use the results to build a portfolio. You can also help a friend with one's website to drive traffic.
Suggested: Best Free WordPress Hosting in 2021: An InfinityFree Review
Final Words
Content marketing is not limited to what you have learned in this guide.
I have tried to keep this guide beginner-friendly as much as possible.
The knowledge you get here is enough to get you started. But, you need to apply what you learn to gain a better sense of the different content marketing techniques.
I hope I have helped you learn a new skill today or maybe six different skills.
Remember to always start with a content audit if there is already existing content.
If you are starting your blog, find a niche and stick to it.
Study your competitors to find great topics. Find easy to rank keywords and create in-depth content around them.
Keep repurposing and distributing the content, and you will have a portfolio in no time.
You can show this portfolio to various clients and start landing jobs without the fear of rejection.
If this guide helps you in any way, do let me know in the comments below.